In the short term, many chatbots are basically glorified search boxes. It's very early days, judging by the first wave of Facebook Messenger bots, which launched its chatbot platform this week.
I've been chatting to six of them, and most provide information and links in response to keywords and/or selections from multiple-choice menus.
Wall Street Journal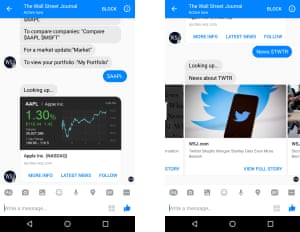 No small talk from the Wall Street Journal's Messenger bot: it serves up news and data in response to various commands, with no chit chat. You can see the latest headlines; search for news, stock prices and financial metrics on an individual company; compare two companies; get a market update or view your portfolio from the WSJ site.
Hi Poncho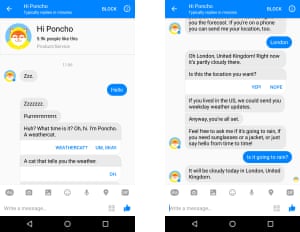 "I'll give you a personal weather forecast that will make you smile, whatever the weather," promises this bot, as if TV weather forecasters weren't overly chirpy enough. Using a mixture of text commands and multiple-choice options, it tells you what the weather is now, and answers questions on what it might do next. In the US you can sign up for daily weather updates too.
CNN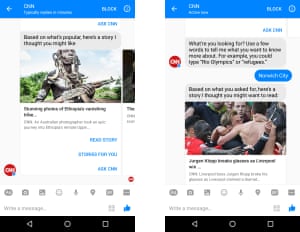 CNN's bot is much like the Wall Street Journal's, suggesting top stories or personalised selections based on what it thinks you're interested in. Tapping on the links takes you out into a browser to actually read them. You can type in keywords if you're interested in specific subjects, and the bot does a decent job at returning relevant results.
Sure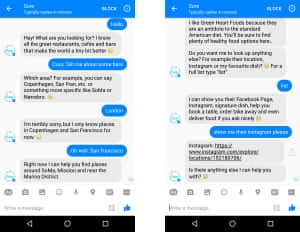 Sure is a bot-guide to restaurants, cafes and bars, only for San Francisco and Copenhagen for now. There were a few dead-ends in our conversation – no vegetarian lunch places in SF's Mission district? Really? – but its recommendations of favourite dishes are a nice touch. "Shaved brussels sprout salad with farro, apple, radicchio, toasted walnuts and pecorino-lemon vinaigrette," since you ask.
Operator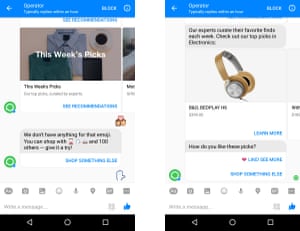 Operator is a shopping-bot, which is expected to be one of the big areas on Messenger. It'll recommend products in a host of categories in response to your commands, and even claims to serve up suggestions in response to emoji – although it struggled with any I tried.
Sequel Stories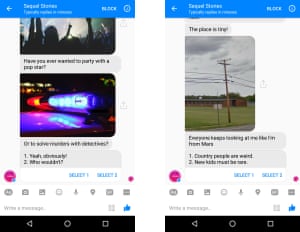 This is fun: an interactive stories bot that helps you read romances, detective fiction and other tales within Messenger, all delivered within the chat interface including photos. Every so often, you influence the story by choosing one of two options. Interactive fiction isn't new, of course, but delivering it via message is a new twist.
Read more at: https://www.theguardian.com/technology/2016/apr/13/facebook-army-chatbots-messenger-news-sports