A Chinese company has unveiled the world's first commercially available passenger drone at the Consumer Electronics Show (CES) in Las Vegas.
The Ehang 184, created by Guangzhou-based company Ehang, essentially looks like a larger version of a quadcopter drone - except with a small cockpit in the middle capable of carrying a single passenger.
Pilotless planes have been developed and tested before, but Ehang says their vehicle is the world's first commercially available self-flying aircraft.
Ehang said the 184 had undergone more than 100 test flights at low altitudes near Guangzhou, even carrying a passenger a number of times.
It's designed to fly fairly low, at altitudes of between 300 to 500 metres, but its creators claim it can reach 3,500 metres at the most. It's also got a fairly nippy top speed of 63mph.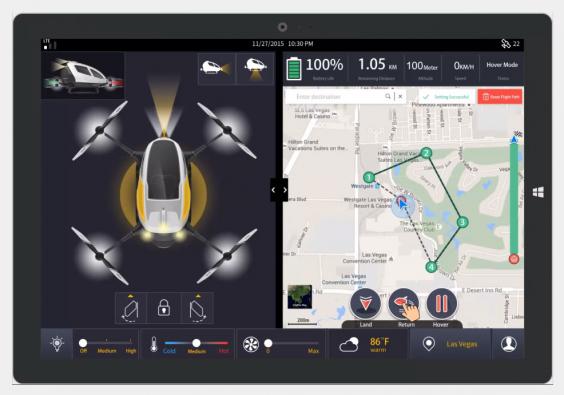 Reassuringly, they promised that their device is fairly safe - even if one of the 184's four rotors fail, the other three will be able to take the aircraft down into a rough emergency landing.
The most interesting (and scary) part about the drone is that it's autonomous - passengers choose their destination and route on a tablet, and can only choose to either 'take off' or land'.
They can't issue any other directions to actually pilot the drone themselves, which means, according to the creators, passengers won't need a license to fly one.
But considering that the humble hover board if illegal to use on the UK's streets, it's unlikely that prospective Ehang 184 owners would ever be able to fly in their drones without some kind of permit.
Although drone pilots in the UK are currently fairly free to fly their devices as long as they stay away from built-up areas or restricted airspace, there's plans to introduce further regulation and controls like a US-style registration system in the works - so devices like the Ehang 184 would certainly face tight restrictions if they ever came to market.
Ehang co-founder Shang Hsaio says the 184 is likely to cost between £140,000 to £200,000 after its proposed launch later this year, but having raised tens of millions of pounds in investment, Ehang could yet bring out a more affordable version.
Read more at: http://www.independent.co.uk/life-style/gadgets-and-tech/news/ces-2016-ehang-184-pilotless-autonomous-passenger-drone-a6800596.html