'Dislike' button coming to Facebook
Media caption Mark Zuckerberg: ''What people really want is to be able to express empathy''
Facebook is to add a "dislike" button to its social network, founder Mark Zuckerberg has said.
In a Q+A session held at Facebook's headquarters in Menlo Park, California, the 31-year-old said the button would be a way for people to express empathy.
He said Facebook was "very close" to having it ready for user testing.
A "dislike" button has been constantly requested by some users since the introduction of the now-iconic "like" button in 2009.
"People have asked about the 'dislike' button for many years," Mr Zuckerberg told the audience on Tuesday.
"Probably hundreds of people have asked about this, and today is a special day because today is the day that I actually get to say we are working on it, and are very close to shipping a test of it."
However he went on to say he did not want it to be a mechanism with which people could "down vote" others' posts.
Instead, it will be for times when clicking "like" on "sad" posts felt insensitive.
Rory's blog: Thumbs up or down?
Prof Andrea Forte, an expert in social and participatory media at Drexel University in Philadelphia, said users will not suddenly turn on each other's posts.
In an email, she wrote: "They may use a dislike button to express some negative emotions (like frustration with ads popping up in their feeds) but I doubt it will cause them to start wantonly disliking pictures of their friends' babies, dogs, cats and cooking experiments.
"I suspect it will mainly be used to express mild disapproval, or to express solidarity when someone posts about a negative event like a death or a loss."
Follow Dave Lee on Twitter @DaveLeeBBC
---
Public reaction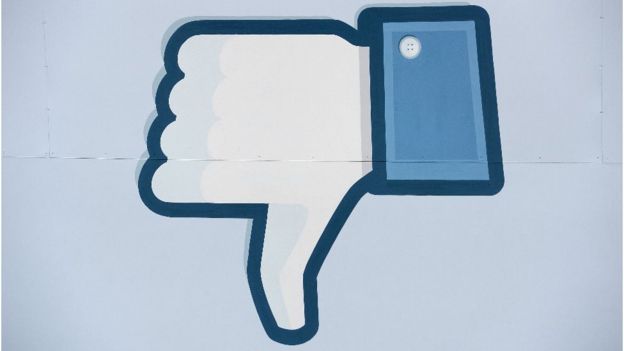 Image copyright                  Getty Images                            
Many people may have wanted the ability to "dislike" Facebook posts for a long while, but there has been a mixed reaction to the news.
Below are a selection of your comments:
GillianB
I know of another site where there are "agree" and "disagree" buttons and sadly the "disagree" button is regularly misused as a means of trolling. Of course when this happens people always bring up the point that it's easy to click the wrong button when on the phone or tablet, but you can always then unclick it if it wasn't meant!
I think it's a very bad idea.
Dil
What I would like is a SOLIDARITY Button to show my solidarity for someone who is facing a tough time
Rushda Khan
I hope the purpose of this is made clear to users. Disliking the post is very different from empathising with the post.
Charlie Martin
The "dislike" button is a real can of worms. It could open up a whole new sphere for trolls. Cynically you could feel that Facebook has used it to try and get a better understanding on what advertising works for specific people on the site.
Dave Locock
What's the problem, there's many a time I want to show empathy and a dislike button would work just fine, in Youtube land a dislike is treated the same as a like anyway !
Another idea which I think is much better would be to add a Like a Like button obviously restricted to a top level like.
Hopeless Surfer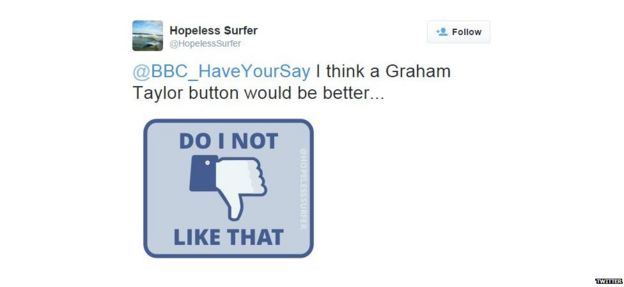 Read more at: http://www.bbc.co.uk/news/technology-34264624