The VW Golf is pretty much the benchmark hatchback that every other car is  measured against.

The VW Golf is pretty much the benchmark hatchback that every other car is  measured against.
What we didn't expect however when pulling one in for  a test was that it might just have the best in-car tech we have seen so far,  even compared to vehicles at twice the price.
The main reason for this is  that the VW system adopts a touch screen, rather than a click wheel. While the  latter has its merits, nothing will beat being able to tap a screen and get  straight to the menu you want while driving.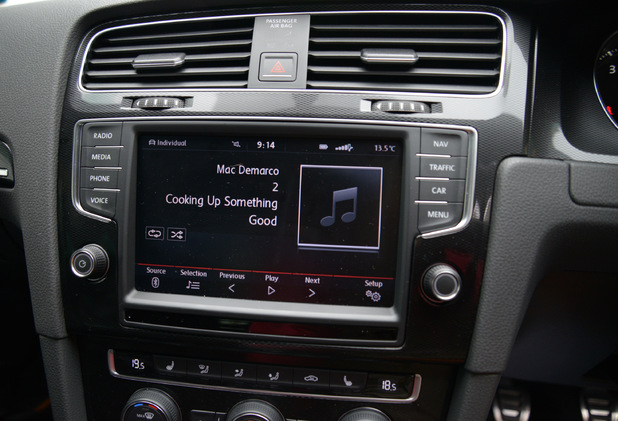 The Golf GTi user interface
This alone however wouldn't be  enough to have us convinced, as plenty of other manufacturers have opted for a  touch screen setup. It's the logic that VW has applied to the setup that we  really like.
Starting with the navigation screen, the map is left clear  of any icons or POI until you hover your hand near it. Do that and a sensor  below the display will wake the screen up, bringing more information for you to  tap and find out about.
The nav screen can be left completely alone, but  if you prefer, you can open small windows on the screen that relate to other  infotainment functionality. For example, it's possible to open a small media  player so you can skip forward and back tracks without needing to leave the  navigation screen.
By adopting a touch screen, VW has  instantly made things easier
Doing this means that  for the most part, you don't need to swap the VW setup away from the nav screen.  It means you can focus on getting to where you need, while still enjoying things  like music and radio.
As for the rest of the setup, you have a very  simple address entry as well as things like an easy to understand radio and  music navigation.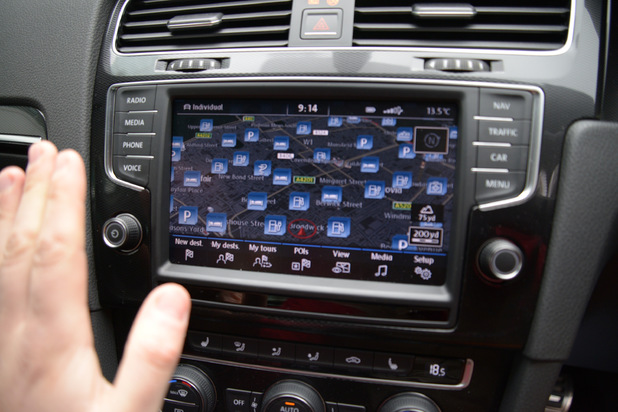 Waving your hand over the screen wakes it up
More complex  menus see the nav screen go through a flip animation where you can do things  like pair Bluetooth. This is where the VW system lets itself down a little as  things aren't hugely clear or streamlined.
The responsiveness of the unit  also starts to make itself clear. For the nav and music player, it's very quick,  but start to ask more and the system can get a little slow. In this sense, Audi  and BMW's setup do a little better.
The screen also isn't as premium as  the more expensive upper-tier German brands. Although bright, it isn't as high  resolution and doesn't have as much colour depth.
Really though, it's all  relative, as this is a system that can be installed in much cheaper cars. Its  logic and the touch screen and sensor combination are also much  better.
The GTi I we tested also came with Dynaudio's optional sound  system. This is a properly meaty setup, with plenty of bass and oomph but nice  detail in the mid range and high end. It can also be tweaked with an included  set of EQs that are well set up for different tastes.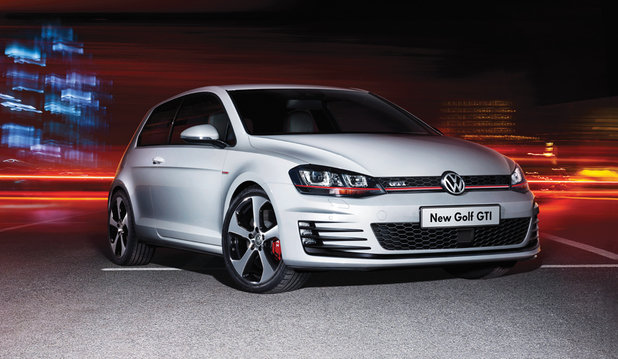 The Golf GTi user interface
All of the functionality is  mirrored in a small LCD display that sits in the centre of the Golf's instrument  gauge. You can see directions, music selection and more without having to take  your eyes far from off the road.
Controls are simple enough that the  steering wheel isn't littered with buttons and that you don't even need to use  the touch screen unless you want to.
As for the GTi itself, it's an  absolutely fantastic car. But it's important to remember that the majority of  the tech here can be optioned throughout the VW Golf range.
For the  entry level models, it's possible to get some seriously high end tech that  rivals much more expensive German manufacturers.
Read more: http://www.digitalspy.co.uk/tech/feature/a570722/hands-on-with-the-technology-in-the-latest-vw-golf-gti.html#~oEqfYDNDTdYzMc#ixzz31sOZYLIm